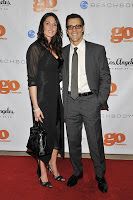 Tony and Shawna (according to zimbio.com)
Welcome to the unofficial Shawna Brannon Fan Page! Just kidding… But here's some info for you.
Many people have searched the Internet for more information about Shawna from the X2 Yoga workout in P90X2. I may have confessed to a little crush on her myself. I have created quite a few cast profiles about P90X2 and P90X cast members, but Shawna has not chosen to make herself known online, which is my main requirement for a cast profile. Here is what little we know:
This New York Times article from 2011, about Tony Horton and P90X, lists Shawna Brannon as his girlfriend.
The picture to the left from zimbio.com shows Tony and someone they claim to be Shawna. She looks a lot like the person we see in X2 Yoga, and in the video below.
Tony Horton's book Bring It! includes an acknowledgement of Shawna Marie Brannon.
December 2013 update: Shawna is back for P90X3! She is a cast member in the Pilates workout, and her influence is seen in a few exercises found in other workouts (Brannon Boat, for example).
That's all I've got so far, plus the video clip below. Since you stopped by, I hope that satisfies your curiosity. Check out the rest of my cast profiles for more information about your P90X2 favorites, as I add them to the blog.
Here's an update from 2014: Tony and Shawna demonstrate couples yoga for Valentine's Day!